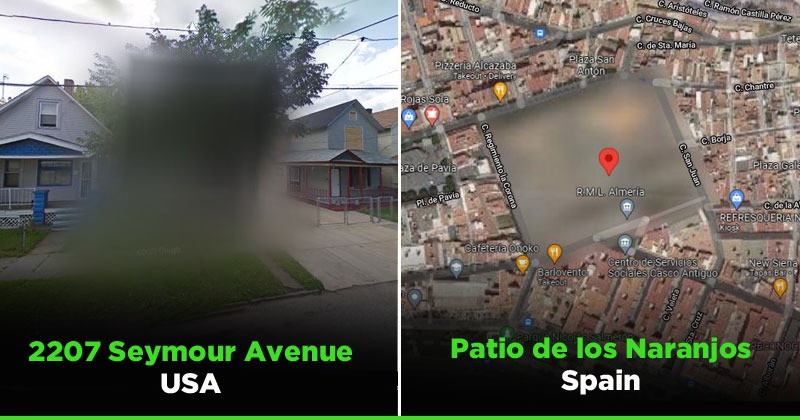 11 places he hides from you
Google maps is probably one of the most used applications in the world. Over the years, Google Maps has become the primary tool people use to find directions, check traffic conditions, and find locations with Street View.
Today we live in a time when you literally have the world in the palm of your hand. You can explore the entire planet from the comfort of your home.
But did you know that there are few secret places on earth that are not visible even on Google Maps because they are either pixelated or blurry for different reasons? From mysterious islands to military bases and even a random house in Stockton-on-Tees, there are plenty of secret places on earth that Google Maps won't show you, here are a few.
1. Moruroa Island – French Polynesia
While you will be able to see that half of this island is clear, the other half looks blurry. According to reports, the French carried out nuclear tests on Mururoa between 1966 and 1996. In addition, this island is off-limits to visitors.
Click here for seen
2. 2207 Seymour Avenue, Ohio – United States
2207 Seymour Avenue is completely hidden no matter how hard you try to zoom in, and for good reason. This is the place where Amanda Berry, Gina DeJesus and Michelle Knight were held captive and abused by Ariel Castro for nearly a decade.
Click here for seen
3. A house in Stockton-on-Tees – UK
Princeport Road in Stockton-on-Tees hosts a fuzzy house, and it's unclear why.
Click here for seen
4. Kos International Airport – Greece
"Kos International Airport is located on the island of Kos in Greece. Kos International Airport appears blurry on Google Maps. Apparently, the airport serves charter airlines that bring visitors to the island, which remains most active during the summer months.
Click here for seen
5. Jeannette Island – Russia
Jeannette Island is a small island in the East Siberian Sea, measuring only 2 km long. The island is mostly covered in ice and has a peak of 1,152 feet in the center. It's unclear exactly why the island is blurry, although there have been issues as to whether the island belongs to Russia or the United States.
Click here for seen
6. North Korea
North Korea is a secret country as it is. Making it even more secret is the fact that you can't see any details of it on Google Maps. You will only find names of towns and green mountains.
Click here for seen
7. Amchitka Island – Alaska
If you search for this island, you will see that more than half of the island is out of focus. According to records, Amchitka was selected by the United States Atomic Energy Commission in the late 1950s to be the site for underground nuclear tests.
According to some reports, three underground nuclear tests were carried out on this island. Today, this island is monitored for any leakage of radioactive materials; the island is expected to become a restricted access wildlife reserve in 2025.
Click here for seen
8. Cattenom Nuclear Power Plant – France
The Cattenom nuclear power plant is a nuclear power plant located in the Grand Est of the municipality of Cattenom, in France, on the Moselle between Thionville and Trèves. It is close to the city of Luxembourg and Metz. It is the ninth largest nuclear power plant in the world.
Click here for seen
9. Marcoule nuclear site – France
Marcoule, inaugurated in 1955, is one of the oldest nuclear sites in France, although it has been extensively modernized. It is located in the Gard department in the Languedoc-Roussillon region, near the French Mediterranean coast. If you want to see the Marcoule nuclear site in France on Google Maps, you will not be able to do so because the entire site appears pixelated on the maps.
Click here for seen
10. Polish Special Forces Base, Poland
Dowodztwo Wojsk Specjalnych, the Polish Special Forces Command, is censored on Google Maps. The DWS (Dowodztwo Wojsk Specjalnych) was responsible for the command and training of Polish special forces, although a different organization is now dealing with this.
Click here for seen
11. Patio de los Naranjos – Spain
The hidden location is called Patio de los Naranjos, which translates to Orange Tree Yard. No matter how far the viewer zooms in on the map, however, nothing of the courtyard can be seen – it remains blurry. It is not known why the Patio de los Naranjos was hidden from public view.
Click here for seen