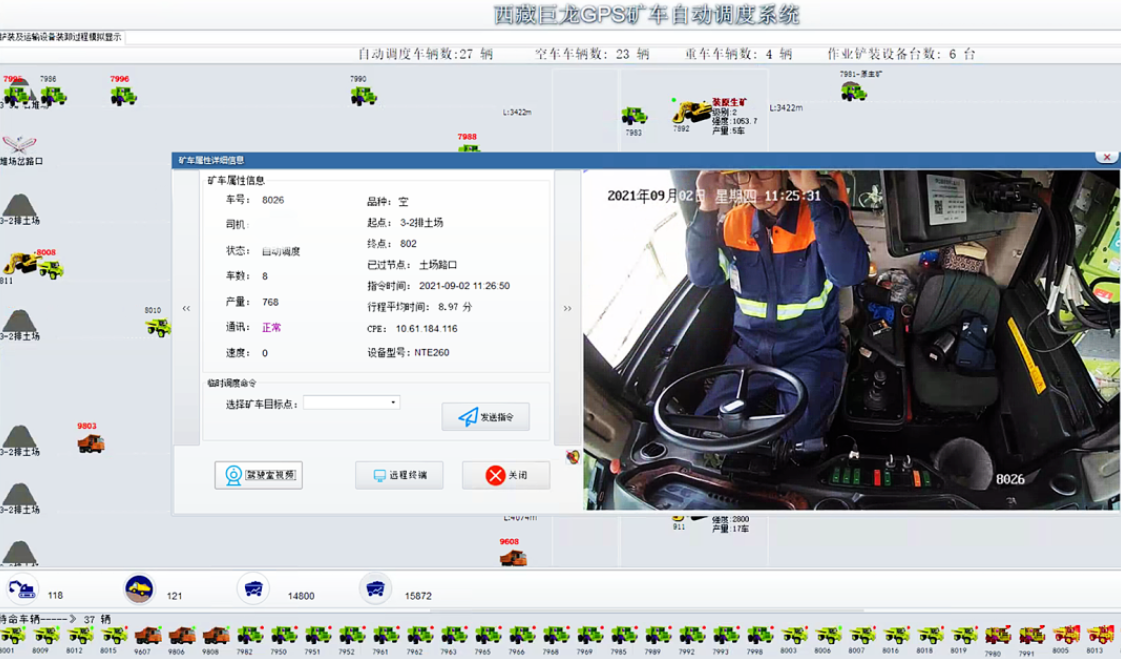 Beijing Soly deploys fleet management systems to Tibet Julong Copper in China and Swakop Uranium in Namibia
Posted by Paul Moore on May 17, 2022
In March 2022, Beijing Soly, a leading Chinese supplier of underground mine autonomous rail systems, surface mine fleet management systems (FMS) and manufacturing execution systems (MES), sent two of its engineers to Swakop Uranium for the installation of its intelligent truck dispatch system. project at the Husab uranium mine in Namibia. Beijng Soly is a technology subsidiary of major iron ore mining company Shougang Mining and also has leading positions in smart granulation, sintering and beneficiation.
The contract was signed in October 2021 and the project is Beijing Soly's second in Africa. He conducted detailed and thorough research on mine requirements in advance and compiled a detailed design and construction plan with Chinese and English versions for the entire system, which includes features such as offloading of weighing data, docking of the digitizing station and precise control of ore mixing. He has also compiled a video tutorial on how Swakop Uranium Mine Editoin works. The FMS enables users to realize the seamless connection of truck weighing data, scan station data and vehicle scheduling and optimize the management and control process. Swakop Uranium is the second largest uranium mine in the world, has the third largest reserves of uranium ore in the world and the mining complex represents China's largest industrial investment project in Africa.
Komatsu 960E at the Husab uranium mine, part of a fleet of 23
The mine is located in the northern part of the Namib Naukluft National Park (NNNP), 52 km east of the coastal town of Swakopmund and south of the Rössing uranium mine. Mining began in March 2014 and the processing plant was commissioned in December 2016. Mining comes from the separate open pits of Zones 1 and 2 which both use a conventional truck method and of shovel. One of the pits now uses the Beijing Soly FMS and the other the DISPATCH system from Modular Mining. The mining fleet consists of six excavators, including three Cat 6060s and three Cat 7495s. In total, the mine has 26 trucks, 23 of which are Komatsu 960Es and three are NHL's Chinese NTE330s. There are 12 drills, consisting of diesel and electric models. Auxiliary equipment includes bulldozers and wheel loaders. The mine produces 15 Mt/y of ore to feed the processing plant designed to produce 6,000 t of uranium oxide (U3O8) per year
Moving to China and Tibet Julong Copper, part of Zijin Mining and the largest large-scale mine in the world, since March 2021, a mining production intelligent command center has been established by Beijing Soly at an altitude of 4,698 m while a dedicated 4G wireless base station was built at 5,500 m. According to him, the Soly intelligent dispatch system integrates dispatch, safety and production monitoring and is based on the theory of coordination and optimization integrating computer science, modern communications, GPS satellite positioning. + BeiDou and other technologies. It offers "situational awareness, real-time knowledge of equipment location and status, and automated production command and control. It enables "automatic matching of trucks and excavators, intelligent route optimization, reduction of transport distances, reduction of energy consumption and optimization of production efficiency. It also includes cabin monitoring and driver fatigue monitoring. The largest surface mine in Tibet Julong Copper is Qulong, which is also implementing the autonomy of its mining truck fleet in collaboration with Beijing-based TAGE Idriver and Chengdu-based HOT Mining.