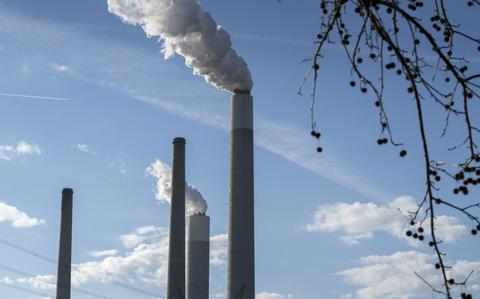 Biden's climate vow falters with Supreme Court poised to stop him
With his climate agenda facing an uncertain future in Congress, President Joe Biden's vow to cut greenhouse gas emissions hinges on environmental regulations the Supreme Court could strike down before they're even written.
On February 28, the nation's highest court hears arguments from coal-fired power plants and Republican-led states trying to limit the Environmental Protection Agency's power to regulate the sector's carbon dioxide emissions electricity. The case could jeopardize the United States' ability to meet Biden's pledge to halve greenhouse gas emissions by the end of the decade.
The White House has won support from a mix of industries, including tech companies and electric utilities. The Supreme Court, with a 6-3 conservative majority, moved to take the case before the Biden administration even passed regulations on power plant emissions, suggesting that some judges are keen to limit the powers of the EPA.
"The chilling effect of what the court decides cannot be overstated," said Christy Goldfuss, senior vice president of the Center for American Progress, a progressive think tank. "That will really determine what the options are for the federal government."
Biden has pledged to cut U.S. emissions 50% to 52% below 2005 levels by 2030. But that goal is impossible to achieve without regulations to stifle greenhouse gases from oil wells. , automobiles and power plants, as well as tax incentives designed to boost clean energy that can outpace fossil fuels, according to multiple analyses.
The electricity sector presents the biggest reduction opportunity this decade – potentially delivering 41% of total emissions reductions according to a plan analyzed by the Rhodium Group, an independent research firm. Without this power sector progress, "achieving the 2030 target may not be possible," Rhodium warned.
Concerns that the Supreme Court's ruling could restrict the EPA's ability to control emissions prompted 15 major companies and tech makers, including Apple, Amazon.com, Google LLC and Tesla, to tell the court in a brief that agency power is "essential to addressing the most pressing environmental challenge of our time."
At stake is a bid by coal companies and Republican attorneys general to stop the Biden administration from imposing sweeping emissions limits on the electric sector, like those in the Obama-era clean energy plan, today gone, which would have encouraged states to shut down coal-fired power plants. and boosting renewable energy from wind, solar and other sources. The companies, including Westmoreland Mining Holdings, and 19 Republican-run states, challenged a 2021 DC Circuit Court of Appeals ruling that rejected a narrow Trump-era replacement rule after finding that it was based on an overly restrictive reading of the EPA's regulatory authority.
The states, led by West Virginia, said the appeals court left the door open for the EPA to redo the U.S. electric system, going far beyond what Congress intended when it first enacted the Clean Air Act 51 years ago.
"It could give the EPA considerable authority to regulate carbon emissions from many, many things," from concrete plants to radiators and chimneys, said Jonathan Brightbill, a former Justice Department attorney who is now partner at Winston & Paille.
The Supreme Court took up the case even though no regulations are currently in place and the Biden administration has no plans to resurrect the rules. The court is due to rule at the end of June.
Electric companies serving 40 million Americans, including Exelon, Consolidated Edison and National Grid USA, say the EPA should be given a freer hand to regulate the industry as a whole — as opposed to just individual plants. Utilities share the grid, with power generation varying up and down to meet consumer demand and manage costs.
Electric utilities also worry that without the EPA's air quality authority to curb emissions, states and environmental groups could sue, possibly forcing factory owners to overhaul their operations and abandon their investment decisions. The Supreme Court ruled in 2011 that the EPA's authority over greenhouse gases excluded these types of lawsuits.
The EPA's authority is in the spotlight after congressional efforts failed to enact climate legislation, including some $300 billion in tax credits for nuclear power plants, renewable energy and advanced energy manufacturing. Without incentives, Biden needs more aggressive regulations to meet US carbon reduction targets.
It becomes more difficult if the Supreme Court limits the EPA to emission reductions based only on what can be achieved at individual power plants.
That scope is critically important, said James Coleman, a law professor at Southern Methodist University's Dedman School of Law. "Is it just about making our coal and natural gas plants more efficient, or is it about moving the entire energy system away from fossil fuels?"
If the EPA loses, it still has options to limit emissions, like forcing coal-fired power plants to adopt carbon capture technology or burn cleaner fuels, including natural gas, said David Doniger, director Natural Resources Defense Council's Climate and Clean Senior Strategy. Energy program.
The EPA can also give states the flexibility to meet any emissions standards it sets through trading programs and averaging emissions across multiple plants, said Jeff Holmstead, partner at Bracewell LLP and former EPA official.
For now, the agency remains fearless, swearing in a statement that it "will not hesitate to legally meet its obligation to protect people from climate and air pollution."
___
Bloomberg's Eric Roston contributed to this report.