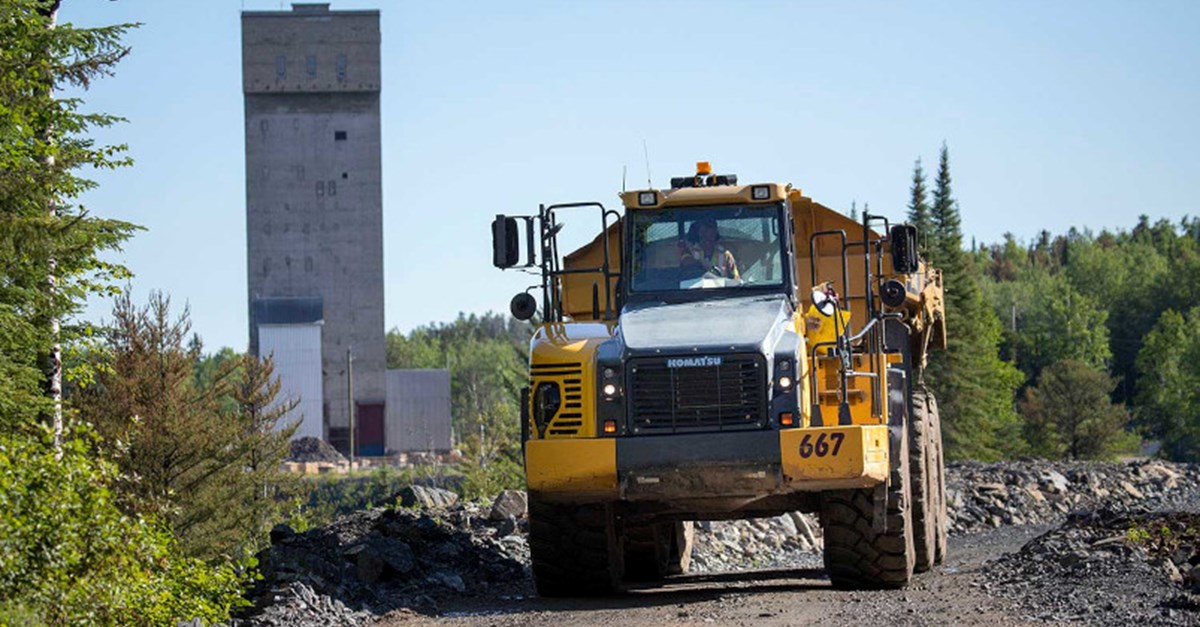 Centerra negotiations, push towards electric batteries and rise in uranium prices
Pure Gold hopes that a leadership change will result in improved production at its namesake mine in Ontario. Courtesy of Pure Gold Mining.
Editor's Note: In the first published version of this summary, Deep-South Resources was referred to as Deep-Source Resources. We apologize for the mistake.
Welcome to your weekly mining news recap, where we bring you up to date with some of the news you might have missed. Headlines this week include the resignation of Nutrien's CEO after just eight months, a team of scientists in Japan developed a fast-charging lithium-ion battery, and mining companies funding expensive legal battles in foreign countries.
Kazatomprom, the world's largest uranium miner, says it is unaffected by unrest in Kazakhstan and operations are normal with no impact on uranium production or exports, as Reuters reported . The unrest in Kazakhstan has led to an increase in uranium prices with spot prices hit US $ 45.50 a pound on Wednesday, the highest since November 30.
There is new leadership at Pure Gold as CEO Darin Labrenz and CFO Sean Tetzlaff have been replaced, and Corporate Controller Ashley Kates has been promoted to VP Finance and Corporate Secretary, as reported by the Canadian Mining Journal. The PureGold mine in Red Lake, Ontario began production in August, but struggled to reach its production capacity of 800 tonnes per day. Pure Gold said these changes will drive the mine towards consistent production and profitability.
A team of researchers from the Japan Advanced Institute of Science and Technology has developed a formula for a fast charging lithium-ion battery which further reduces CO2 emissions. Further modifications could lead to even better performance and potentially benefit electric vehicles and portable electronics, Mining.com reported.
Instead of funding mining and exploration, companies increasingly find themselves funding costly legal battles with foreign governments. Toronto-based Montero Mining and Exploration is currently in litigation with the United Republic of Tanzania. Likewise, Deep-South Resources and the Republic of Namibia are competing in court. To avoid costly legal proceedings, companies need to understand the legal framework in their host countries.
As the Canadian mining sector shifts to the use of battery-electric vehicles, the industry is also seeing an increase in used lithium-ion batteries. Batteries have a limited lifespan as they experience natural wear and tear, but companies are finding new ways to recover, recycle and reuse materials.
Sign up for the latest news from ICM Magazine and the Canadian Institute of Mining, Metallurgy and Petroleum.
Centerra Gold and representatives of the Kyrgyz Republic negotiate an end to their dispute related to the Kumtor mine. In May 2021, the Kyrgyz government took control of the mine. The parties are negotiating the potential transfer of the mine to the Kyrgyz Republic, the return of Centerra shares held by the Kyrgyz agency Kyrgyzaltyn JSC and the resignation of the two agency candidates from Centerra's board of directors.
The recently opened Tłı̨chÇ« Highway in the Northwest Territories has been called a "smart investment" by Nighthawk Gold CEO Keyvan Salehi because it gives the company the opportunity to move its Colomac gold project forward, as CBC reported. The new road allows year-round access to the site by trucks bringing fuel, supplies and equipment, and eliminates the need to build a winter road.
Two unfortunate deaths from collisions with transport trucks have been reported this week in separate Alberta facilities. The North American Construction Group has reported that an employee was fatally injured at the Millennium mine in Fort McMurray. According to a press release, NACG is working with the relevant authorities to investigate the cause of the incident. Reuters also reported a death at Suncor's oil sands base plant in northern Alberta.
Mayo Schmidt, CEO and chairman of Nutrien has resigned, but the company has given no reason for his departure, as reported by CBC. Schmidt was CEO of the company for eight months. Nutrien, the world's largest fertilizer manufacturer, said it cannot provide specific details because there are "legal constraints on this. [it] Can say."
Companies are considering sensor-based ore sorting technologies as a solution to decreasing the quality of ore available on earth. This technology can improve efficient grinding and processing of minerals while being more environmentally friendly. While the systems aren't universal, the Saskatchewan Research Council (SRC) has created a new test that can help mining operations find the ideal option.
It's all for this week. If you have any comments, you can always reach us at [email protected] If you have something to add, why not join the conversation on our Facebook, Twitter, LinkedIn or Instagram?