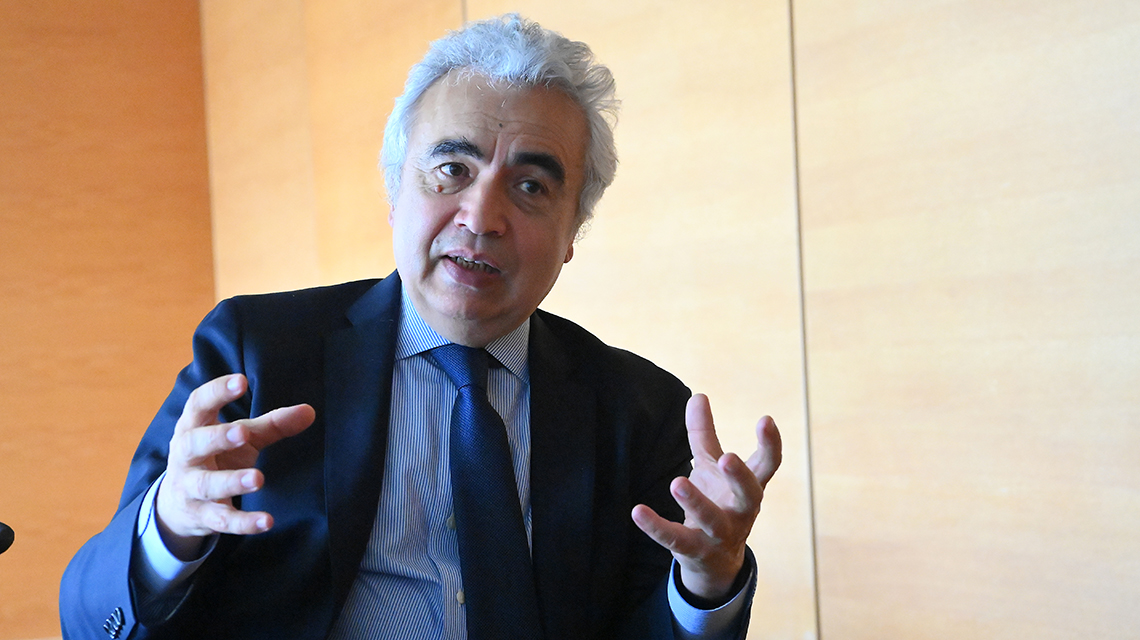 Q&A with Fatih Birol of the International Energy Agency
Fatih Birol, a world-renowned energy economist and executive director of the International Energy Agency, is no stranger to nuclear power: he has come out in favor of all low-emission options, including nuclear energy, in the fight against climate change. He was on the Time 100 list of the world's most influential people last year and is chairman of the World Economic Forum's Energy Advisory Board. Today in Vienna, at the invitation of IAEA Director General Rafael Mariano Grossi, he delivered a lecture to representatives of IAEA Member States entitled "Global Energy Crisis: Implications for Energy Markets and climate".
We spoke with Executive Director Birol after the hour-long briefing, during which representatives from over 70 countries took part and many questions were asked.
During the briefing, you spoke of a simultaneous energy crisis and climate crisis. What role do you see for nuclear energy in solving these problems?
Today we are witnessing an energy crisis, a humanitarian crisis and a climate crisis. They are all linked. I believe we are actually in the first global energy crisis, and it is affecting oil markets, gas markets, electricity markets and coal markets. The world has never experienced such an energy crisis. It's a new energy world with new realities – we are at a turning point for global energy.
I believe nuclear power can play a role in countries where it is accepted to address both energy security and climate. To do this, we must ensure that the nuclear industry meets deadlines and costs, and the safe operation of nuclear power plants is also of crucial importance.
The oil crisis of the 1970s caused economic and social suffering, but it also brought innovations, both in terms of increased energy efficiency and growth in the use of other energy sources, including nuclear. More than 40% of current nuclear power plants were built in response to the oil crisis.
The world today has highly competitive energy options to help us overcome the energy crisis: solar, wind, electric cars – as well as nuclear energy.
You said that many countries are "reliking" nuclear energy. Why is this and why is this happening now?
Several countries, both advanced and developing economies, are considering nuclear. Many countries that had removed nuclear from their energy options are thinking twice. This is because they understand that nuclear power – if operated safely – can support the electricity security and energy security of their countries. In addition, nuclear can be one of the energy sector's options to reduce greenhouse gas emissions, which can help countries achieve their announced targets. So many governments see nuclear as one of the options – not the only option, but certainly one of the options.
Solar and wind are getting very cheap, but one of the cheapest sources of electricity in the world is extending the life of existing nuclear power plants.
If, on the other hand, the very justified energy security concerns of many countries are met by increased coal burning, then climate change goals will be out of reach.
In several countries, particularly in the West, public opinion is a key nuclear issue. What can organizations like the IEA and IAEA do to influence attitudes and help ensure an objective view of nuclear?
We are not a pro or anti-nuclear organization. We are a pro-energy security and pro-climate change organization. We put facts on the table. And the facts show that in the absence of nuclear energy, it will be much more difficult and costly to meet international climate goals. Another fact we tell governments is that extending the life of existing nuclear power plants is one of the cheapest sources of clean electricity. These are the facts that governments must tell citizens to change their minds and overcome certain taboos.
There is already a change in the perception of nuclear energy. People realize that energy security and the fight against climate change are important. If we use a lot of renewable energy and there is a cold winter day with little wind, we will need other sources of clean electricity like nuclear. Public support and government support are actually growing – now the nuclear industry has to meet costs and deadlines.