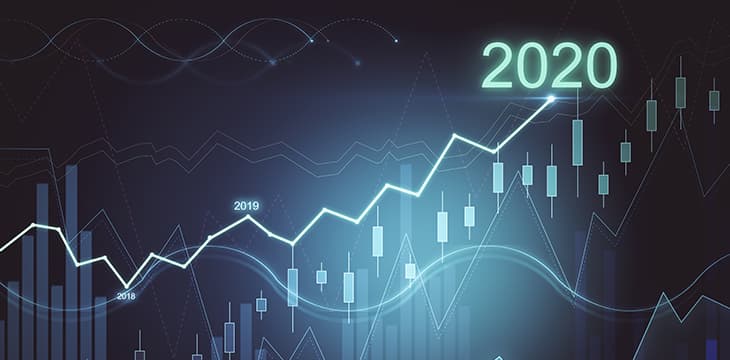 Riot Blockchain's Latest Financial Report Shows 2020 Growth
Riot Blockchain recently released its annual financial report detailing the company's business performance in 2020.
The report found that the US-based block reward miner (NASDAQ: RIOT) increased its hashrate by 460% over the previous year. Despite halving BTC in the spring, the company more than doubled the amount of BTC held on its balance sheet in 2020, from 514 BTC to 1078 BTC.
Total mining revenue generated by Riot in 2020 was $ 12 million, a substantial 78% year-over-year increase from the $ 6.7 million recorded in 2019. This improvement is due to an increase in the operational hash rate. Riot's total computing power increased from 101 pentahashs per second (PH / s) in December 2019 to 566 PH / s as of December 31.
Overall, the company posted mixed results, reaching profitability in the fourth quarter with net income of $ 3.9 million on a GAAP basis, while still posting an overall net loss of $ 12.7 million. dollars for 2020. Nonetheless, this was an improvement from a year ago when it recorded a net loss of around $ 20 million in 2019.
Riot announced its cash and digital currency holdings from $ 11.3 million in 2019 to $ 235 million last year. He noted that he still depends on equity and debt financing to fund his operations, with his deficit falling from $ 221 million in the second quarter of 2020 to $ 299 million at the end of the fourth quarter.
One bright spot was Riot's strong fourth-quarter performance of $ 0.16 per share, which beat Zacks' consensus estimate of a loss of $ 0.08 per share. In the third quarter, they expected the company to record a loss of $ 0.08 per share when it actually produced a loss of $ 0.04, offering a 50% surprise.
Riot shares have jumped 213.5% year-to-date alongside other BTC-linked block reward mining companies. This illustrates the consumer demand for altcoins.
How the block rewards mining industry works is not how Bitcoin was designed to work. The press release does not mention the amount of commission income generated by transaction processing or growth measures in this area.
Infrastructure companies supporting the true Bitcoin blockchain, under the ticker symbol BSV, have turned to supporting corporate clients and a fee-based economy. This allows them to be better equipped to withstand a bearish market correction when the speculative bubble in the digital token markets bursts.
Infrastructure companies need to let go of their fixation on the reward of subsidies and mature their business model. That is, if their underlying principle remains to find a way for their business to continue and ultimately deliver as much value as possible to their shareholders. Otherwise, and short-term profits are all that matters, take advantage of the altcoin season and mining altcoins like BTC.
See also: Introducing Jerry Chan from TAAL to CoinGeek Live, The Shift from Bitcoin "Miners" to "Transaction Processors"
New to Bitcoin? Discover CoinGeek Bitcoin for beginners section, the ultimate resource guide to learning more about Bitcoin – as originally envisioned by Satoshi Nakamoto – and blockchain.